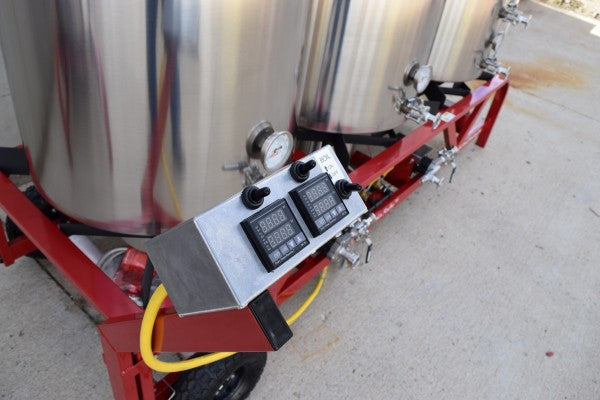 Digital Control Package (Gas only) - Ruby Street Add-On
The Ruby Street Digital Control Package is specifically designed for any Ruby Street brewing system. This digital controller offers one convenient control panel for temperature control of the HLT and mash tun as well as ignition control for all 3 burners. The control panel mounts to the left side of any Ruby Street frame with a quick disconnect arm for ease of transportation and cleaning. For use on gas systems only.
Features:
-Convenient control panel mounts on any Ruby Street frame
-Two separate PID controls on HLT and mash tun for temp control
-Digital Control system monitors kettle temps to within 0.5° and automatically lights and extinguishes burners as needed
-On/Off/Auto switches on HLT and mash burners for digital and manual control
-On/Off switch for Boil Kettle ignition control
-Electronic ignition based on safe flame ionization sensing technology. If a burner blows out, it will immediately attempt to relight. If relight attempt fails, gas valve will close and require a manual reset. No standing pilot light.