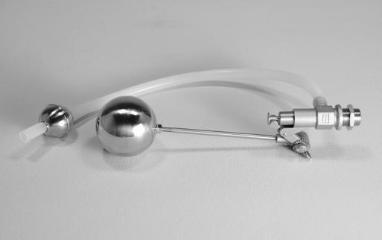 AutoSparge
Do you long for a sparging system with a "set-it-and-forget-it" design? The elegantly simple construction of the AutoSparge™ 
level and flow control system
 lets it automatically set the hot liquor flow rate and liquid level 
and
 adjust to compensate for a constant level in your mash tun. It's an awesome accessory for RIMS systems. Autosparge™ also works great with gravity or with pumps!  
New 100% stainless steel design!
-----
Are you ordering a new kettle and don't want to drill your own hole for the AutoSparge? Choose from six options offered by Blichmann! (See picture featuring six kettles lined up!) Want to do it yourself, or adding an AutoSparge to a kettle you already own? Here are the suggestions from Blichmann: "To install yourself, you'll need to punch / drill a 13/16" hole in your kettle or cooler. A 7/8" hole will work, but it's a little on the big side. We recommend using a step drill or a Greenlee knock-out punch. A great source for these is McMaster-Carr. The step drill is part number 8841A24 (89315A42 for TiN coating) or a punch 3449A999 - requires a 3/8" pilot hole. This particular punch (Greenlee model 730BB) is special-order with a three-day lead time. Slug-Buster types are available in their catalog but do not work well in this application. When drilling stainless steel, a moderate to slow speed is best to avoid overheating the tool. While hole saws will also work, they are difficult to use in stainless sheet metal." More details here:
www.blichmannengineering.com/products/autosparge
.
------
Standard AutoSparge Float Rod is 6 inches. Longer options available by request.