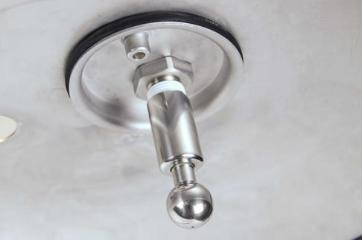 CIP Spray Ball
Cleaning a fermentor can be time consuming. With the CIP (Clean In Place) Spray Ball you can automate your cleaning process while you're working on more important things.  However, it is vital to match the spray ball to the pump.  Without adequate pressure and flow, the spray ball performance will be inadequate to remove those tough soils properly and get even coverage inside your vessel.  Blichmann Engineering™ has designed, tested, and tuned this spray ball to work seamlessly with the RipTide™ pump and also with March™ 815 pumps.
The Fermenator™ CIP Spray Ball kit is quick and easy to install. It cleans while you focus on other brewing priorities!

The CIP Spray Ball with Lid Hatch includes the silicone tube, CIP Spray Ball, NPT Bulkhead with O-Rint and Lid Hatch, all for only $64.99!

The universal CIP Spray Ball kit can be custom fit into any fermentor, kettle, keg cleaner and more! All that's needed for mounting is a simple 13/16" hole. The kit only includes the CIP Spray Ball and the NPT Bulkhead with O-Ring, all for $49.99!

Tuned for high performance, we include a splash guard to keep the outside of your Fermenator™ dry!

Fermenator™ CIP kit installs quickly into your fermentor.

Full stainless construction to last a lifetime!