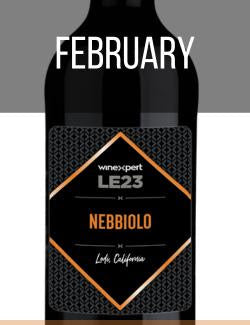 LE23 Nebbiolo - Lodi, California **Limited Edition**
The regal Italian red you know and love with a bit of laid-back California charm. Nebbiolo maintains its strong tannin on North American soil but reins in some boldness, showing more voluptuous fruit and floral undertones. Aromas hint at rose and violet with notes of earth and spice. Cherry and raspberry flavors are forefront, while licorice, plum and chalky earth notes add depth. A gratifying wine with strong structure and balance thanks to Nebbiolo's characteristic high tannin and acidity.
Sweetness
: Dry
Body
: Full
Oak
: Heavy
Alcohol
: 14.0%
Kit arrives February 2024!
*Pre-order through Friday, November 10, 2023 at 4pm.*