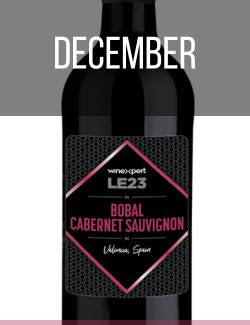 LE23 Bobal Cabernet Sauvignon - Valencia, Spain **Limited Edition**
This Spanish red combines Bobal and Cabernet Sauvignon to deliver a medium-bodied wine with a fruity palate and silky tannin. Aromas of black fruit, mild spice, and subtle toasty oak. The first sip shows bright flavors of plum, cassis, and cherry joined by notes of licorice, cocoa, oak, and earthy nuances. Fresh acidity, soft tannin, and a light spicy sensation complete this polished blend.
Sweetness
: Dry
Body
: Medium
Oak
: Medium
Alcohol
: 13.5%
Kit arrives December 2023!
*Pre-order through Friday, November 10, 2023 at 4pm.*