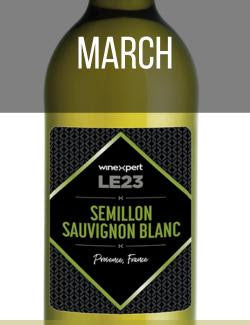 LE23 Semillon Sauvignon Blanc - Provence, France **Limited Edition**
This White Bordeaux style wine is a classic French blend of Semillon and Sauvignon Blanc. Citrus and grassy aromas lead to a gorgeous palate with refreshing grapefruit and lemon/lime flavors. Gooseberry, passionfruit, and green apple notes come through, hinting at honeysuckle and lemon peel. Serve lightly chilled to emphasize the vibrant acidity and prominent citrus flavors of this crisp dry white.
Sweetness
: Dry
Body
: Medium
Oak
: None
Alcohol
: 13.5%
Kit arrives March 2024!
*Pre-order through Friday, November 10, 2023 at 4pm.*