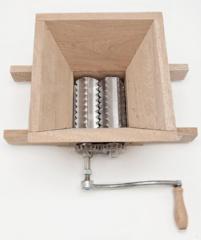 Rent my Press and Crusher!
Small wooden fruit crusher suitable for hard and soft fruits and a 2.5 gallon stainless steel press. Rent both for $25/day or $50 over the weekend (Sat - Tues). $25/day after that.

Requires your CC info or cash/check deposit for full retail value of equipment, to be refunded upon return in good condition.
Email or call to reserve the equipment.
Recommended for smaller projects as you will need to cut up apples to work in the crusher.
Details on the equipment:
Press
Compact fruit press perfect for the hobbyist wine or cider maker
Stainless steel perforated basket offers reliable performance and long lifespan
Hinged design allows for quick removal of spent grapes and easy storage
2.5-gallon capacity
Made in Italy by Marchisio
Great for pressing the juice from soft fruits (pitted peaches, apricots, etc.) or when used in conjunction with our manual apple crusher to make cider. The basket is made from perforated stainless steel. The press mechanism is a single plate that pushes down via a threaded shaft that is connected to a t-handle. The entire pressing mechanism is hinged and folds out of the way when done, allowing for easy removal of spent fruit solids. Much faster than a typical wine press. 20 cm Diameter basket holds 9.5L (2.5 Gallons) at a time.
Does not include any straining bag, though one can be added to reduce product bypass.
Crusher
A small, one-person crusher. Made of select hardwood, aluminum rollers and stainless steel shafts which make it almost indestructible. Specially made gears and pulverizers make quick work of APPLES, PEARS, and OTHER HARD FRUIT. This crusher also does an excellent job on grapes and other types of berries. Comes with a hand crank. No assembly required.
Approximate hopper capacity when full: 10 lb