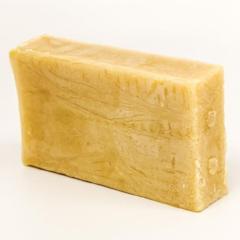 Beeswax
Beeswax has been used for thousands of years for its unique chemistry which has the ability to produce creamy textures in a variety of cosmetic applications. Because of the highly complex composition of beeswax and its soft, pliable nature, beeswax remains an indispensable raw material for many finished products even after centuries of commercial use.

CONTAINS: One pound of all natural beeswax.

YIELD: One pound will wax approximately 12-20 cheeses when brushed on.

DIRECTIONS: The safest way to melt wax is in a double boiler. To prepare, heat one pound beeswax and, if desired, two ounces of vegetable shortening, to 200°F. Once the mixture is melted, drop the temp to 160°F -180°F. There are two ways to apply wax. With a natural bristle brush (a synthetic brush will melt) you can apply a thin coat of wax directly onto your dried, chilled cheese. Or, you can dip your cheese & remove it with a quick, smooth motion, repeating with a 90° rotation between each dip until fully coated. You will want the coating to be 1/16 inch thick.

Vegetable shortening will help in preventing cracks by making the formula more pliable.

Before cutting your cheese we recommend running a sharp knife under hot water to help create a clean cut.

When you are ready to eat your cheese, the wax can be simply peeled off and then strained through butter muslin to be reused over and over again.

STORAGE: Store in cool place, away from any high heat. Will keep indefinitely.