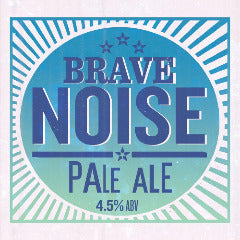 Brave Noise Pale Ale
Brave Noise Pale Ale is a sessionable brew packed with outsized tropical aroma and flavor!
From bravenoisebeer.com, "What started out as a simple question on Brienne Allan's Instagram story ('Have you ever experienced sexism in the beer industry?') quickly became the inquiry that sent shockwaves throughout craft beer, subsequently inspiring a BEVOLUTION. To keep the momentum going; to honor those who have spoken out about their gender discrimination, racism, sexual assault, and harassment; and to bring further awareness to the issues that women, BIPOC, and LGBTQIA+ individuals face in craft beer, we invite you to join us in a collaborative brew titled 'Brave Noise.'"
For a limited time, the beer recipe born of this project will be available at the Farmhouse! In colaboration with Bangor Greendrinks, we have formally adopted a Code of Conduct and will be donating the proceeds from the sale of this beer kit to Partners for Peace, an organization with two goals: serve people affected by domestic abuse, and end personal, institutional, and cultural violence.

Color: 5.5 SRM | IBU: 8.7 | ABV: 4.6%
Extract kits include liquid and/or dry malt extract, plus crushed specialty grains with a grain sock to steep. Partial mash kits include malt extract, plus a larger amount of crushed base malt and specialty grains with a grain sock, and require extra steeping time. All-grain kits include crushed base malt and specialty grains, and require advanced technique and equipment.
All kits also include:
• Hops 
• Bottle caps and priming sugar
• Whirlfloc tablet or Irish moss
• Spices and/or other additives (if applicable)
• Yeast (you choose dry yeast, liquid yeast, or not yeast)