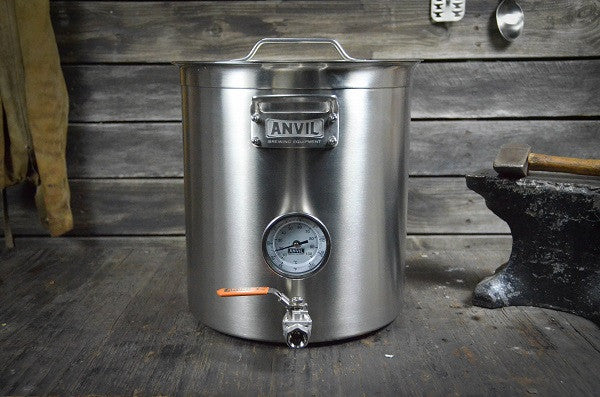 Anvil Brew Kettle
Anvil Brewing Equipment brew kettles are as durable as they get. This rugged kettle is constructed from high quality materials and is designed for a lifetime of demanding use. Standard equipment includes:
-Heavy 18 gauge 304 stainless steel with reinforced lip for durability and easy cleaning.
-Induction capable tri-ply clad bottom.
-Internal etched level graduations in gal and liters for accurate measurements
-A dual scale F/C thermometer – included standard!
-Solid cast stainless steel handles for comfort and durability – no rivets to leak or harbor contaminations!
-Lid conveniently rests on kettle handle
-Ideal 1.2 height to diameter ratio for optimum brewing performance
-Purpose built stainless steel ball valve with integral bulkhead seal is rock solid, easy to install and disassemble, and will never leak.
-Dip tube drains to within 3/8" of the bottom of the kettle.
Anvil Brewing Equipment provides everything you need in a brew kettle! But if you want more, add a boil kettle strainer for the ultimate in hop and trub filtration or convert your Anvil Brew Kettle to a mash tun with our optional perforated false bottom.
*15 and 20 gallon options discontinued.*