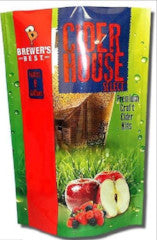 Cider House Cider Kit
A traditional hard sparkling cider that is packed full of flavor. Makes 5 to 6 gallons of hard cider; yeast included.
Apple: This apple cider is crisp, light and refreshing, a perfect choice any time of the year.
Pear: Bursting with pear flavor from the very first sip and deliciously easy to drink, a perfect companion for any day or evening event.
Mixed Berry: Packed full of the freshest fruit flavors and exploding with tones of ripe juicy raspberries, finishing with undertones of blackcurrant and hints of blueberries.
Spiced Apple: Apple cider with a charming warming character compliments of the cinnamon and spices. This cider is enjoyable chilled or as a warm mulled cider.
Cherry: A soft, luscious flavor of cherries that is perfectly balanced by the sweetness of apples.
Raspberry Lime: Starts off with bold flavors of fresh raspberries on the palate finishing with a twist of lime. Wonderfully thirst quenching! 
Strawberry Pear: The taste of juicy pears combines with the unmistakable tones of fresh strawberries creating perfect harmony throughout this delicious fruit cider.
Cranberry Apple: Sharp cranberry tones blend with sweet, fruity apples to create a medium sweet taste with an acidic bite that will make your taste buds tingle. 
Mango Peach: Sweet peach and tropical mango are surrounded by a crisp apple flavor. Refreshingly smooth on the palate with a perfect balance of sweetness and acidity .
Pineapple: Fresh, fruity pineapple with underlying tones of crisp apple combine to create a deliciously refreshing cider.
*Price also includes required dextrose.*