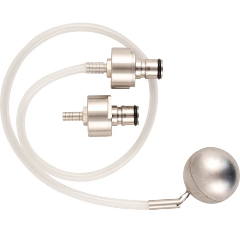 FermZilla Stainless Steel Pressure Kit
Unlock the FermZilla's true potential with the FermZilla Pressure Kit. This will enable fermenting under pressure, carbonating, and serving without ever needing to move beer out of the fermenter. The kit inlcudes two stainless female threaded ball lock fittings with barbs, which thread onto the existing openings atop the FermZilla's lid. A silicone dip tube with stainless steel float work as the beverage out, allowing only the clearest beer from top of the tank to be dispensed. The Pressure Kit will turn the FermZilla into a true unitank!
Key Features:
Ferment beer under pressure to reduce ester and fusel alcohol production
Always draw clear beer with the floating dip tube
Keg beer that has already been carbonated
Use CO2 to push beer into a keg or through a filter into a keg
Eliminate kegging altogether by carbonating and serving directly from the FermZilla
Please note: pressure kit does not include the lid pictured in the example photo. The ball locks and floating dip tube are installed on the FermZilla's existing lid.
We also source replacement parts for the FermZilla!