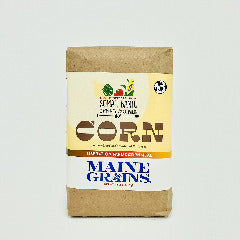 Maine Grains Liberation Farms Cornmeal - 2.4lbs.
Liberation Farms cornmeal is a traditional, stone milled medium grind corn meal that supports over 200 Somali Bantu families who grow fresh, culturally relevant produce with Liberation Farms in Auburn, Maine to build food and economic security for their community.
In addition to our purchase of corn from Liberation Farms, Maine Grains will contribute 5% of proceeds back to the Somali Bantu Community Association which provides new American farmers access to, and culturally appropriate resources for the means of sustainable food production for themselves, their families, and their communities.
This cornmeal can be used to make your favorite cornbread, as breading, or, try our recipe on the bag for traditional African Muufo Flatbreads which are delicious with butter, sautéed vegetables, or dipped in a hearty stew.