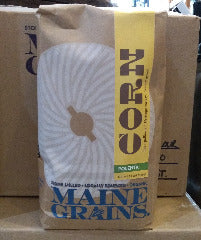 Maine Grains Organic Corn Polenta - 2.4lbs.
A rustic coarse ground organic yellow flint corn, this polenta makes a creamy porridge, wonderful served with sautéed vegetables, sauce or ragu. Or for breakfast, just put an egg on it! To speed up the process, try soaking the polenta overnight in milk, cook, and enjoy the following morning!
Stone milled. Locally sourced. Organic.