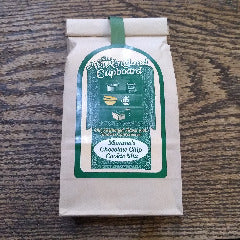 New England Cupboard Momma's Chocolate Chip Cookie Mix
Good old chocolate chip cookies on any day will warm anyone's heart. This mix is packed with so many chocolate chips that it's nearly impossible to take a bite without biting into a chocolate chip.
20.5 oz. Yields 2 dozen cookies
Ingredients: Wheat Flour, White Sugar, Light Brown Sugar, Chocolate Chips, Pasteurized Egg, Baking Soda, Baking Powder, Salt, Vanilla Powder.