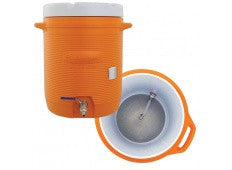 Rubbermaid Cooler Mash Tun 10 gal
A great way to get into all grain brewing! We have made mashing easy by converting a Rubbermaid cooler into an amazing, temperature retaining, mash tun. You'll notice barely any temperature loss throughout your 1hr+ mash. This unit arrives completely assembled. We use the highest quality components - Rubbermaid coolers which are higher quality than Igloo or imported versions from China, all stainless steel hardware and FDA approved silicone tubing that is heat resistant to 500 degrees. 
Includes
Best quality Rubbermaid insulated beverage cooler made of FDA approved food grade plastic
Stainless steel spigot installed in cooler
Stainless steel perforated false bottom pre-installed in cooler
High temp, FDA approved Silicone tubing
Stainless steel tubing connector with 3/8" barb
Dimensions
Internal dimensions are 18.375"H x 12.875"D.
External dimensions are 20.875"H x 15.875"D with lid on.