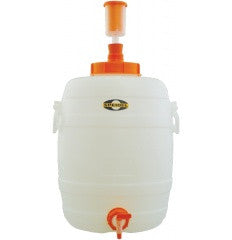 Speidel Plastic Fermenter - 30L / 7.9 gal
Extremely popular storage tanks from Speidel! Safer than glass carboys, easier to keep clean than plastic carboys, and easier to transfer than either.  These fermenters are made out of HDPE and are extremely durable.

Key Features:
Heavy duty HDPE construction is durable and resists oxygen transfer.
Built-in handles make these tanks easy to move, even when full.
Large lid opening makes them easy to clean by hand.
All ports seal with gaskets and the vessel can be fully sealed for long-term storage.
Includes a spigot and airlock.
Approximate Dimensions: 13.5in Diameter x 18.5in Height (w/out airlock in place). Note - The maximum temperature that these plastic fermenters can handle is 140F.
*This product is a special order item. We will not always have it in stock and readily available.*
*We also carry other Speidel products - call, email, or stop in the store for pricing and availability!*