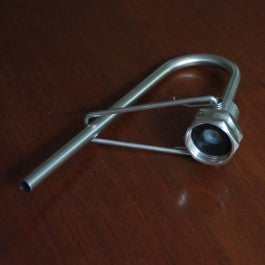 Stainless Steel Bottle Washer
Specially designed to clean carboys and bottles. Stainless steel construction means it is much sturdier than other models.
No more damage, no more racket. The automatic soft closing valve keeps you from banging on the pipes. The long stem makes it easy to clean carboys and pretty much any type of bottle. Easily attaches to almost any faucet. The threading is the same as a garden hose. So it can be used on most outside taps and laundry rooms. A kitchen sink adapter is separate but available for purchase. The strong stream makes it great for rinsing out soaps, cleaners, and soiled deposits. You can control the spray (and the mess). There is a lever for triggering the blast of water by pushing down on the lip of the bottle of the jug.