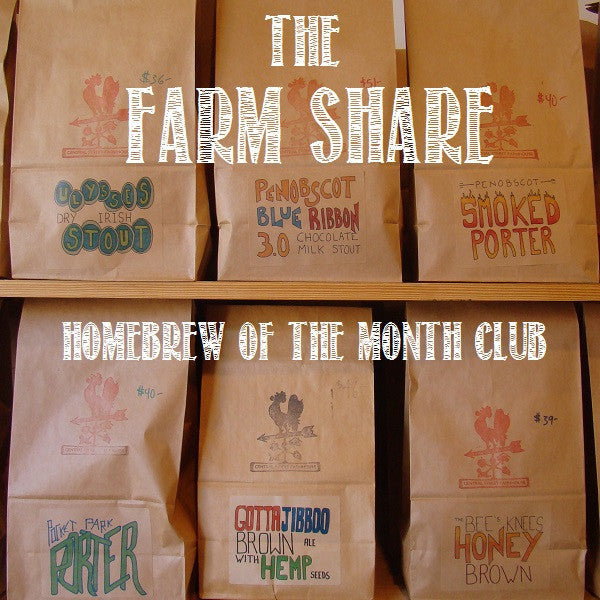 The Farm Share: Homebrew of the Month Club
The perfect gift for your favorite homebrewer! The Farm Share is a homebrew of the month club that sends a new, seasonally appropriate beer kit to your door every month. From pale ales to porters, and session beers to bigger brews, the Farm Share delivers a variety of homebrew styles to your door. Available as 12-month or 6-month subscription.
At the start of each month, we will send you a new homebrew ingredient kit -- choose from extract (easy skill level), partial mash (moderate skill level), or all-grain (advanced skill level). The kits will be seasonally appropriate; they will focus on brand-new recipes that we're constantly creating here at the store, and will occasionally feature classic recipes as well. Total price includes all ingredients, yeast, and shipping.

Kits are mailed out the first week of each month, so expect your kits to arrive by the second week of each month at the very latest. We keep seasonality in mind (so that you're not brewing a stout in April!) and will make sure that at least one of your recipes is exclusive to Farm Share members only. And of course, if you're local to Bangor, you can pick up your kits each month in-store!

Choose between 6-month subscription, and 12-month subscription.
Note: Add-ons such as Clarity-Ferm must be purchased separately. Liquid yeast is not available through the Farm Share program.