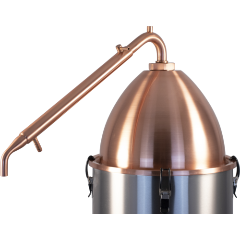 Still Top Conversion Kit with Copper Alembic Condenser
If you already own a BrewZilla, DigiBoil, or Grainfather, you're only a couple steps away from small batch distilling! Pick up a still top conversion kit and get on your way to producing high quality spirits at home.
This kit features the Still Spirits Copper Alembic Condenser. Alembic condensers are preferred in the production of whiskey, rum and other flavor-forward spirits. Reflux stills produce a higher purity distillate, but sacrifice much of the flavor and character of the wash in the process. Thermometer, tubing and tap adapter set are included with the alembic condenser.
Kit Includes:
Copper Alembic Condenser
Copper Alembic Dome Top*
Compatible With:
BrewZilla (35L)
DigiBoil (35L)
Grainfather
T500 Boiler
 
Not compatible with the Anvil Foundry.
*Alembic Dome Top features a built-in silicone seal, no lid gasket required.