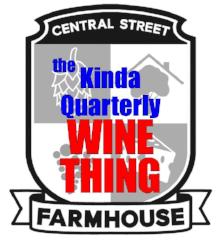 The Kinda Quarterly Wine Thing
**THIS IS AN IN-STORE EVENT!**
Are you interested in the winemaking process but aren't sure that you want to invest in an entire kit? Do you want to try homemade wine before taking the plunge to make you own? Are you looking for something to do once a month?

Why not check out our new "Kinda Quarterly Wine Thing" at the Farmhouse! For $0, you can try a number of different Farmhouse-made wines and some snacks (possibly Farmhouse-made), and also get a hands-on winemaking demonstration. $0 for all that? Yeah, this one's on us.


This is not an actual item, just a spot for info! Follow us on Facebook and/or sign-up for our email to get the latest events and details!